Maybe it's just me, but I've noticed there's a lack of discussion about the egg mag revival in the groups? Somebody just asked me when the magazine was gonna drop and I was like uh... it dropped 3 weeks ago... lol. Seriously, nobody is even paying attention to it. I'm going to review the magazine and channel and see if they have a good reason for snubbing our favourite magazine like this.
Okay, egg magazine began in 1995. Middle class Japanese girls started lightening their hair and getting light tans. They wore slightly more provocative than average clothes and spent their time worrying about their appearance. This was gyaru fashion's beginning.
Everybody and their mother has seen this cover.
Then, the former yankii started infiltrating the style taking the tans, Spice Girl inspired platform boots and Naomi Campbell inspired make-up to the extreme. With girls like Namie Amuro being ambassadors of the style, this era became probably the most iconic.
Aaah Buriteri. Girls like this looked completely different to the founders.
egg died a painful but premature, short death not so long after. With J-Lo and Beyonce dominating the charts, RnB became a thing to people who weren't already listening to it in the 90s. The tans calmed down (for most) and the platform boots finally became retired.
Ngl, if the 00s kept the platform boots, it would definitely be my favourite era.
Then the OG gyaru grew up and a lot of them started careers in the red light districts. Lots of girls dreamed of becoming princesses or celebrities and wanted to present themselves in a way that was very individualistic. This was very much the start of the gyaru boom. The next generation turned to this style.
Since Ageha magazine spoke to the princessy types, egg magazine went the opposite way and appealed to the grittier gals.
Not long after, circle lens became a must-have item and brand started releasing more appealing fake eyelashes just for gyaru. Now anyone could get into the style because there were different flavours to match all personalities. Girls who liked sweet clothes could go to Liz Lisa, individualistic girls could go to JSG, older girls could still wear their favourite Me Jane and CoCoLuLu was still booming.
Girls like Kanako at the front were proper pioneers. This is truly the best era.
The style was at the top. Everybody wanted to become like the gyaru. Everyone dyed their hair and wore colour contacts, even if they didn't want to go as far as participating in the antics they read about in Animal Talk. Then all of a sudden, in June 2014, we are presented with this cover:
What the hell was this?
Shortly after, everyone's favourite magazine died and gyaru vanished from the streets of Shibuya. Most of the models stuck to their own post-gyaru style, keeping eyelashes and blonde hair but trying oh-so-hard not to be considered gyaru. A lot of current and former gyaru keep talking about the style as if to egg on (see what I did there) a resurgence. A revival. A reissue. So after nearly 4 long years of thinking egg was gone for good, we were blessed with this: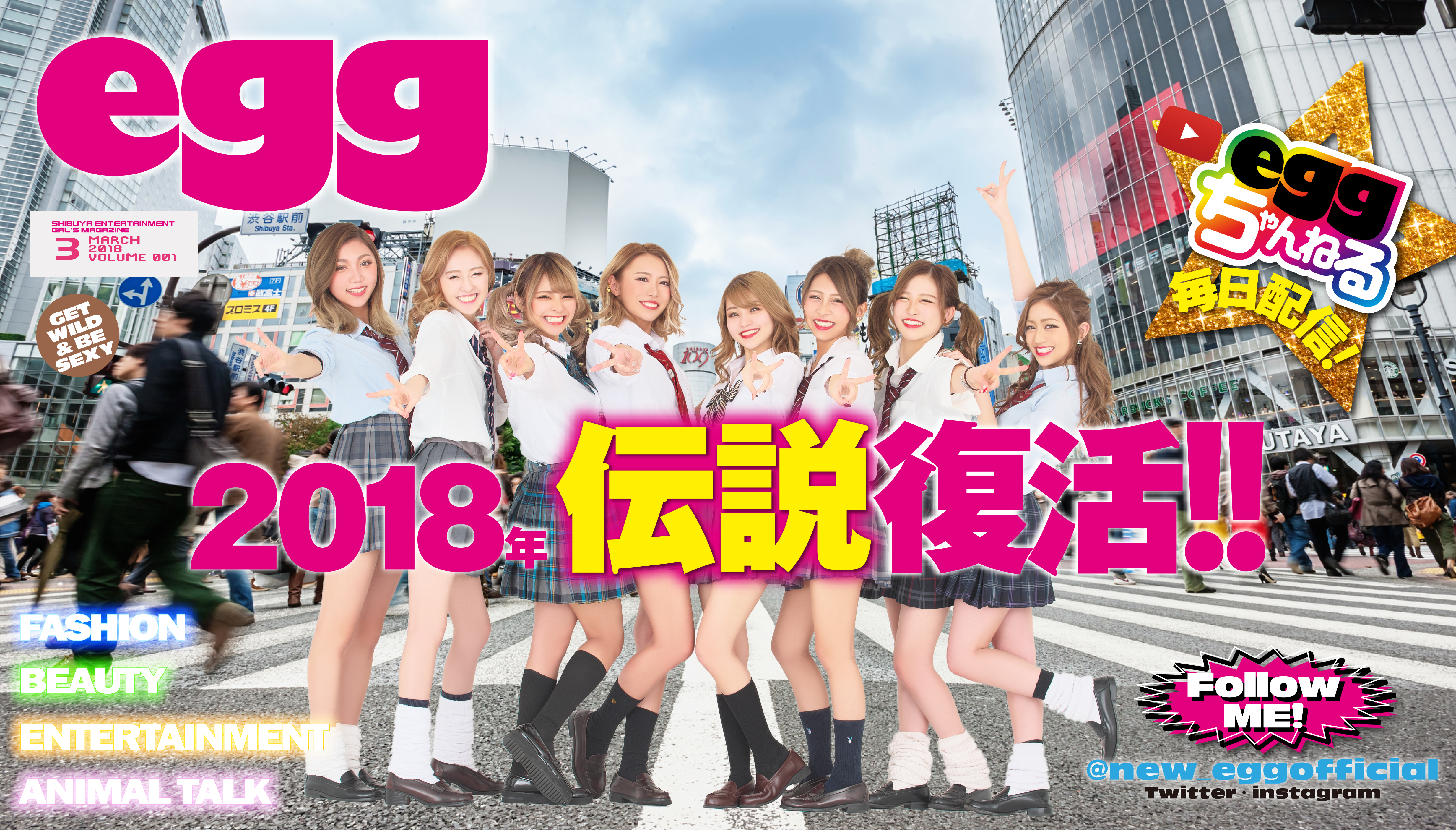 I promise, this is where the real review starts!
Egg came back as an online only magazine. It has online articles over at eggegg.jp as well as a Youtube Channel. The Youtube Channel is mostly filled with introductions, skits and the models' favourite cosmetics.
The online magazine is actually where it's meaty. There are interviews of OG gyaru, Animal Talk articles, the models' own blog posts and make-up looks!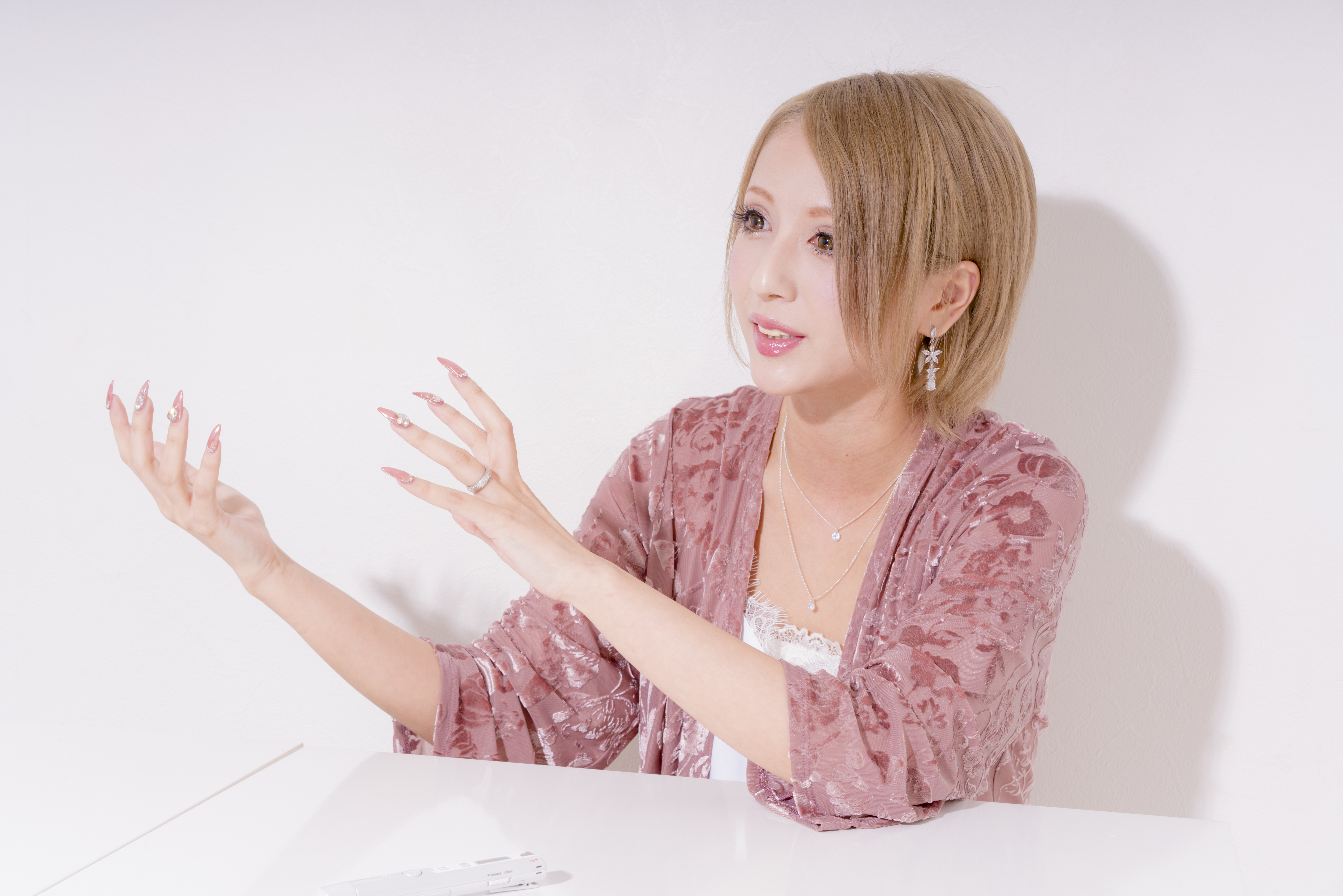 They even interviewed Queen Nemoyayo!
The oldest model is the 18 year old Pito who has just graduated from high school. She's my favourite so far.
Then there's Aimi who for some reason has a lot of haters. I noticed her style fluctuates a lot but then she's still only in like her first year of high school (technically second year now).
Next up, we have Aina.
Then we have everyone's favourite energetic Nagi.
And last, but not least, we have the babyfaced Momo!
The other two girls Maami and Miyu have yet to do their self-introductions. I think they might make their appearances sometime this month.
Okay, so it's time for what most people are wondering: my opinion on the new magazine. Honestly, I'm starting to look forward to Loveggg more than I did the egg revival.
Egg magazine was known for showing the strongest, flashiest and most outrageous gyaru. If you wanted to be half-hearted, then you should leave and go to Popteen instead. The profile pictures for most of these girls is borderline catfish. The girls all look great here but when you watch the videos and see their selfies, they are much more toned down (except for Pito, which is why she's my favourite lol). The worst offender is definitely Momo, though I'm using her age and the sudden gyaru revival as her defence and pretending that middle schoolers never used to wear heavy make-up back in the day. I remember when everyone looked at 2014 Happie Nuts and declared the models 'not gyaru'...
I'm not sure whether to laugh or to cry.
Fashion wise, the models dress so... plain. In 2018 with this uncertain gyaru phase, I'm not surprised the make-up is so subtle. But when I look at certain model's clothing, I wonder what exactly about them says (not even 'screams') 'egg'.
Believe it or not, this was their promo picture.




I do have hope though. Not only is Pito amazing, the revival of egg and the introduction of Loveggg could mean that the girls will want to start standing out again. I wrote it better on Twitter.
The problem with Gen Z is that they don't really want to stand out that much so the Gen Y-lead Loveggg will bring people with the original gal attitude who had a taste of the old days and want a revival

— 🙅🏾‍♀️ (@StrongBubblee) April 7, 2018
The new egg magazine isn't displaying any 'hunger'. Loveggg looks like it will bring that 'hunger' back because the people who lived those pre-2014 days will know exactly how amazing the culture was, how it felt to go Campus Summit, what it was like to stand out from everyone else, what was the gyaru community. These models are too young and I wish they'd hired at least one slightly older model because most of these girls weren't even in middle school yet when egg was still alive. They don't even need to be out of the age range, just 19 or 20 - the same age as myself who was 16 when egg died. Maybe that's why I like Pito so much, she probably saw that era first-hand since she's the oldest.
Next up is the girls' attitudes. Do we have a Kawabato Kanako among us? So far, I think the craziest girl is Nagi. She seems to me like the one to watch if you want a good laugh. Nobody really stands out in that kind of way to me. If one of the girls had that effervescence like Yumachi or Kanako, it'd feel more like egg. But then, I am comparing mostly written word to video. Compare our new egg models to Yumachii and Yukipoyo.
Hopefully, when they get to know each other a bit more it will look more like:
Now it's more about the content in general than the models. The content of the Youtube channel is still finding its feet. The biggest and probably most obvious thing to do would be showing how each model does her make-up since, y'know, this
is
egg. They still haven't done that yet and you'd think it'd be one of the first things they'd do. "Gyaru is back! You want to be like us? Here's a make-up tutorial!" Nope. Instead they're doing popular videos like 'What's in my bag' and 'Favourite cosmetics' which I don't really care about. Hopefully it will get them some promo but it's still a bad move.
Some of the videos show the models getting to know each other and their personalities. I do like it, but this isn't AKB48. Having the models display their likeable personalities and getting them to do skits can be a good way to bring people to the channel. But as I said before, none of the girls have Kawabata Kanako's personality and it just feels... Plain.... Too calm... Not 'wild' or 'sexy' enough compared to the channels run by other gyaru. If you had one girl there sitting cross-legged and rolling her 'r's, I'd be more interested. Instead I'd rather watch Usatani Paisen's videos because her personality is great to watch and she's genuinely entertaining
and more gyaru
.
The online magazine is much more interesting to me. The articles are very reminiscent of egg before 2014. Navigating the website is a little bit of a hassle if you don't know exactly what you're looking for. It does show you the most recent articles but if you want to go backwards, then you have to know which category you have in mind. They are Entertainment, Fashion, Beauty and Animal.
The only problem I have with the online website is the focus on Entertainment. Most of that is just links to their Youtube videos - most of which are about Entertainment. This means the one thing egg should be highlighting (fashion) is being overlooked. There's pretty much nothing highlighting trends and what the models are wearing. There's no street snaps. There's only a mention of Dazzy and that's pretty much it.
I did enjoy what I've read from the Animal section though, even if there's not much to it yet. The story I read was quite mild and a lot more believable than some of the Animal stories you'd get back in the day. I would go into detail about the story but I still haven't decided whether I want to allow this blog to get more than a PG-13 rating yet lol.
You can read it here though
.
So, it's time to close this review!
Pros:
- egg's back!
- Changing from a magazine to a Youtube channel was a very smart move since nobody wants to spend money on magazines anymore and this generation is all online. The content is free for the consumers but the models and co can still make money from revenue. So win-win.
- The website header is gorgeous and brings that nostalgia in.
- I like Pito's style a lot! The way she dresses and does her make-up feel to me like she picked up where egg left off back in late 2013 and early 2014. Her make-ups is still lighter than 'egg' but her dress sense and the way she carries herself makes up for it.
Cons:
- The average age of the models is too young. Since egg targets <20 and it's youngest fanbase is probably at least 21-22, it shot itself in the foot by not having models who could have missed the magazine.
- Too much focus on Entertainment when it's supposed to be reviving gyaru fashion.
- The girls look far too plain to be 'egg'. They should have at least done an oldskool-style photoshoot to inspire them and the readers. They can wave the old magazines around all they want but the models don't look anything like them.
- Lack of content. It's only just started but it doesn't feel like a month's worth of content yet and it's nearly time for the next 'issue'.
So, time for my final verdict! I rate new egg magazine as of April 2018... Drumroll!
A good 4/10.
It's like they've forgotten 'get wild, be sexy!'. There's nothing really wild about any of these girls! Look at that 1995 cover again and tell me, does that girl stand out? Her make-up was light but so was her hair and her skin was tanned. Now do the same for each of the covers I posted and then look at New egg and that JK edition cover because the models look too similar to that and in their profile pictures, their make-up is a lot heavier for some of them than on Youtube. There's no rebellious essence here.